Follow
Uptown Traffic
on Facebook
Please click here
to contact us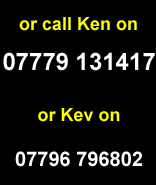 Testimonials
Hi Kevin,
On behalf of Donnington Valley Golf Club I would like to thank you all for the terrific music you put on for us last Saturday. It was a really great selection of songs - something for everyone. Music on the day always creates a fantastic atmosphere.
I know Chris Robinson was involved with Uptown Traffic and as you know he was a very  popular member of the golf club and is sadly missed by all.  Two of our charities last weekend had looked after Chris during his illness so it was most appropriate that they,  and Uptown Traffic, were involved in last Saturday's Charity Day.
Our final total for the day was £5,000 and Uptown Traffic made a huge contribution. 
Many thanks again to you all.
Anne
Jolley,Lady Captain

John Goodhead, Club Captain
Hi Kevin,

I was at the two Pops on Saturday evening, sitting at the back, knowing all the words to your songs!!! I thought you were fantastic and have a birthday in October, and just wanted to know how much you charge for the evening. Could you supply me with some details please.
Regards, Sandra Macdonald 
Hi Uptown Traffic
Great night last night - great memories of all those songs!
We'll come and see you again next time you are at The Cricketers
Roger Woodward