Goto Home Page

Goto Event Page

Write a Tribute for Chris

Show Tributes

Gallery

Chris's Own Website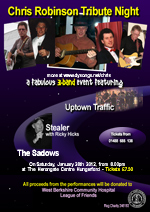 Our Sponsors

We would like to say
a very big Thank You
to our sponsors
for supporting our event
and helping us
to raise funds.






Visit their websites by
clicking on their names on
their advert


This event is in aid of
West Berkshire Community Hospital's League of Friends

Registered Charity Number 246183
Chris Robinson 2001 mixing Onyx's recording of Another Cup Of Coffee
Chris learned guitar while at school and enjoyed many musical escapades in school bands such as The Phallic Symbols and Homburg. He also ran one of the early discotheque roadshows 'Parsley Disco'. He got together with friends Tony Locke, Richard New, Paul Carter, Richie Pounds and Ken Saunders to form the band Uptown Traffic in 1969 who under his leadership, enjoyed success at gigs local and further afield.
On leaving school, Chris took an Electronic Apprenticship at AWRE Aldermaston but his focus was always on music. It was at a gig where he met his wife Diane and they married in 1972.
After he finished his apprenticeship he moved jobs and became a traveling Rank Xerox service engineer, servicing their copying machines at various companies. His career was gaining momentum and before long he had been promoted to Area Manager.
During its course, Uptown Traffic went through several personel changes and many local musicians joined and left but Chris always looked to better the band. In 1975, Uptown Traffic cut their first single 'Thinking' which was sold at gigs to help fund the band's equipment. It was around this time that Chris and Diane had their first son Daniel.
In 1976 Uptown Traffic sadly disbanded and Chris joined Andy Carter's Sunset Showband. As with Uptown Traffic, the new band had a brass section. At work, Chris changed jobs and found himself working as a senior manager for Seimens where he spent most of his working life heading up the Tech Support department.
Chris and Diane's second son Sam was born in 1978 and Chris was still with Sunset although the line up frequently changed. But what ever the challenge whether it was musical or technical, Chris always adapted and shone. Chris and the band cut a new record and one of the tracks, 'Apache' became Chris's show-piece. At his 50th birthday party, his friends and family surprised him with a visit from Reg Presley who founded the original 60's band The Troggs. Chris had always been a great fan.
Chris had the knack of being in tune with all the people he met. He knew how to get the best out of them and treated them all as special friends. He was very popular with everyone and if you needed a job doing and Chris got wind of it, then before you knew it he had already done it with a result far better than you could ever have hoped for.
In 2000, singer-songwriter and guitarist Kev Dyson from the old Uptown Traffic days, joined back up with Chris to form the Onyx duo and together Chris and Kev played many local pubs. In 2001 the duo cut their first CD - Another Cup of Coffee. They helped to raise several huindred pounds for the Help For Heroes charity and each year gave their time and talents at the Donnington Valley Golf Club Charity Day.
In 2009 Uptown Traffic reformed and Chris played his usual major roll in both the performing and organisational aspects.
Chris fell ill at the begininng of 2011 but still continued to play in Onyx and Uptown Traffic. His ultimate gig was at The Plough at Shalbourne among his many freinds on and offstage.
The Chris Robinson Tribute Night was the collective idea of Uptown Traffic and will be supported by many of the top local musicians with whom Chris used to play. It is hoped that a sum approaching £2000 may be raised for West Berkshire Community Hospital's League of Friends. The event being held at Hungerford's Herongate Centre on Saturday January 28th stands to be one of 2012's musical highlights
Kev Dyson



Tragically, Chris lost his fight for life on Sunday June 26 2011.

He had many, many friends and who loved and respected him
Chris will be remembered not only for his passion for music but also his passion for people and the way that he helped so many of them.

Our Sponsors


Visit their websites by
clicking on their names on their advert