Now available!
The new book The Fleur De Lys

CIRCLES




also available.... a special

limited edition

vinyl ep and download
Coming soon!


The rest of
Keith Gusters musical career and who he is playing with now!
Copyright © 2009 Keith Guster
Updated 07-Mar-2013

The Fleur de Lys (or Les Fleur de Lys as they were originally known) were formed in Southampton in 1964.
The band was the brain child of Dave Jay, Southampton's answer to Brian Epstein and they became one of the most talented of Britain's bands throughout 1965 to 1969.
During their varied personel changes, only drummer
Keith Guster was a member throughout their entire history until they finally disbanded in 1969
Now for the first time through this website
and also through the accompanying book
'The Fleur De Lys - Circles' by Paul 'Smiler' Anderson and Damian Jones, Keith and the other band members reveal the true story of the band's momentous journey with unseen images and some unheard material from their early recordings (one with a young Jimmy Page in charge of production), to their final single 'You're Just A Liar'
New!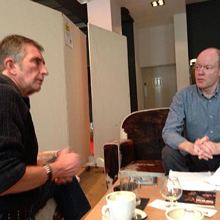 Click image for more
The Keith Guster talks about the

new Fleur de Lys compilation album


about to be released by Acid Jazz, in an interview wiith Record Collector Magazine


The Fleur de Lys -

'Circles'


by Paul 'Smiler' Anderson and Damian Jones
in association with Acid Jazz Books,
tells the strange story of
Britain's forgotten soul band

Home
New Rare Footage of
Fleur de Lys live backing Sharon Tandy
Featuring
Sharon Tandy
with
Keith Guster (Drums), Gordon Haskell (Bass)
and
Bryn Haworth (Guitar)
- this was filmed on cine at the Speakeasy Club in London for the French TV programme Disque Rouge
circa 1968
NEW & EXCLUSIVE!!!!
Is this the only surviving live recorded track of the band?
See the first Fleur de Lys
video of their reunion gig November 2009!
Click here!
See the photographs
in the gallery!

The reunion gig of members of
Les Fleur de Lys took place
at the 100CLUB in London last November.
It was their first performance in 40 years


To see a

slide show

of stills from the
re-union, click on the image above!





Keith would like to thank Smiler and Damian and all those involved, in helping to produce this fantastic book, and also friends especially all those who performed and worked their arses off to make the reunion gig such as fantastic success!!!