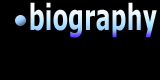 Page 1
Perhaps no-one will ever read any of this, but I feel that I need to document the many years I have played music with many great and sometimes brilliant musicians

By providing this record, not only will my own story be told but also there will be insights to lots of other muso's stories which perhaps one day will come to light.
An 'egotistical' look at my musical career
or track my hairline!
Musos spot your name!
I have been a guitarist since the age of 8 and I have played many songs in many bands. My musical roots go back even earlier as at the tender age of 4,
I sang 'Living Doll' on stage at Newbury British Legion with my father
Ray Dyson and his band The Gold Star Players. My mother Ellen Dyson was the band's singer.
My early school years at Winchcombe Infants and Primary, gave me many opportunities to enjoy music. I once played the Pied Piper tootling a recorder instrument I could not play(some say I still can't!) and later I played Good King Wenceslas singing the carol in a duo with my friend Alistair Hill.
My music teacher Mr Dyson (no relation!) took great interest in me and helped me to develop musical talents.
My father bought a Framus acoustic guitar even though his main instrument was piano. He started to learn a couple of chords just before he died when I was 8. From that point I decided I wanted to play guitar and I started to have a little go practising in the mirror, after listening to Hank Marvin and the Shadows.

One day when I was 9, my uncle had me go along to 'jam' with his son's group (sorry!. I can't remember the name). Steve Dyson was the drummer
Rob Claridge was on bass and vocals and Terry Kruger was the lead guitarist. Terry showed me 2 chords E and A and from then on I was away!
He is the reason that I play guitar today! (Thanks Terry!)
At school I let it be known that I was 'a guitarist' and I teamed up with
Tony Wimbush (drums) who now is the entertainments director and DJ for the Calcot Hotel in Reading. We formed a band called Tony and the Drumbeats.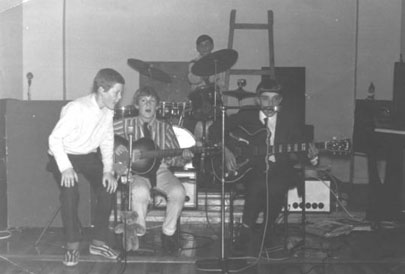 Left to right - Pat McQuillan, Steven Johnson, Tony Wimbush and me (with a full head of hair at the age of 12!) singing the Beatles tune "I Shoulda Known Better". We borrowed the equipment from the resident band The JB's which featured Andy Carter (Drums) and
Jo Borrell (" 'av yer paid yer subs?" - piano). I broke the guitarists string that night! I never knew his name can someone tell me?
I then got involved with some local friends who were starting a band, Dave Banbury (guitar), Dusty Miller (drums) and Barry Richardson (Bass) in a pop band called Red Alert . We used to practise in a dis-used chicken coup and transport our gear in wheelbarrows!